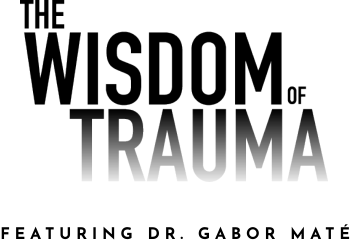 The interconnected epidemics of anxiety, chronic illness and substance abuse are, according to Dr Gabor Maté, normal. But not in the way you might think.
One in five Americans are diagnosed with mental illness in any given year [1]. Suicide is the second most common cause of death in the US for youth aged 15-24 [2], and kills over 700,000 people a year globally [3] and 48,300 in the USA [4]. Drug overdose kills 81,000 in the USA annually [5]. The autoimmunity epidemic affects 24 million people in the USA [6]. What is going on?
In The Wisdom of Trauma, we travel alongside physician, bestselling author and Order of Canada recipient Dr. Gabor Maté to explore why our western society is facing such epidemics. This is a journey with a man who has dedicated his life to understanding the connection between illness, addiction, trauma and society.
Trauma is the invisible force that shapes our lives. It shapes the way we live, the way we love and the way we make sense of the world. It is the root of our deepest wounds. Dr. Maté gives us a new vision: a trauma-informed society in which parents, teachers, physicians, policy-makers and legal personnel are not concerned with fixing behaviors, making diagnoses, suppressing symptoms and judging, but seek instead to understand the sources from which troubling behaviors and diseases spring in the wounded human soul.
A renowned speaker and bestselling author, Dr. Gabor Maté is highly sought after for his expertise on a range of topics including addiction, stress and childhood development.
Rather than offering quick-fix solutions to these complex issues, Dr. Maté weaves together scientific research, case histories, and his own insights and experience to present a broad perspective that enlightens and empowers people to promote their own healing and that of those around them.
After 20 years of family practice and palliative care experience, Dr. Maté worked for over a decade in Vancouver's Downtown EastSide with patients challenged by drug addiction and mental illness. The author of four books published in over twenty-five languages, Dr. Maté is an expert on addiction, trauma, childhood development, and the relationship of stress and illness. His book on addiction received the Hubert Evans Prize for literary non-fiction.
Our intention, in producing this film was to inspire an active movement towards a trauma-informed society, a society where:
• We recognize the prevalence of trauma among all of us
• We learn to notice and feel the trauma symptoms in ourselves
• We acknowledge that whenever we have an emotional reaction, an old wound is being triggered
• We understand the imprint of trauma on our behaviors and its impact on our relationships
• We recognize the pain in others and understand how that pain might be driving their behavior
• We see the real person underneath the behavior and the trauma
• We support connection and compassion as the foundations of safety
• We know that the experience of safety is the beginning of healing
• We understand that all trauma is intergenerational
Below are the organizations featured in the film. Please join us in supporting their important work.
COMPASSION PRISON PROJECT
Compassion Prison Project is a grassroots 501(c)(3) non-profit organization made of people gathering together with a common bond and vision…. to create a more compassionate world. Our team consists of a core organizing team, paid staff, volunteers, a growing Board of Directors and powerful partnerships with people who are currently or formerly incarcerated. CPP values every donation, no amount is too small. Your contribution directly funds CPP's projects and operations which support our mission to transform prisons and communities through compassionate action. All donations are tax deductible.
Chrysalis Society operates three addiction recovery homes for women in the Vancouver area. All of the women rely on income assistance & many are homeless when they arrive at our homes. Since 1988, Chrysalis Society has supported over two thousand women to overcome chemical dependency and transition to empowered, self-sustainable lives. For many women who have graduated from our programs, reunification with children and/or renewed relationships with family and community have become actual realities.
Want to be involved & make a real life-changing difference in the lives of women who need it the most?
Small acts multiplied innumerably indeed can & do change the world! Thank you, everyone, for choosing to take one small action by donating and changing lives for women recovering from addiction & violence!
Downtown Streets Team is a 501(c)(3) nonprofit organization that is dedicated to ending homelessness by restoring the dignity and rebuilding the lives of unhoused men and women. Founded in 2005, Downtown Streets Team is now beautifying thirteen Bay Area communities: Palo Alto, San Jose, Sunnyvale, San Rafael, Novato, Hayward, San Francisco, Santa Cruz, Sacramento, West Sacramento, Oakland, Berkeley, and Modesto, with more on the way. We now serve over 750 unhoused men and women a year with almost 50 staff members and growing. Our goal is to end homelessness in our lifetime: one community at a time.
Producers Zaya & Maurizio Benazzo c0-founders of Science & Nonduality and partnered with Caroline Harrison from The Hive Studios to create The Wisdom of Trauma. Here below you can meet the team.
Zaya has degrees in Engineering, Environmental Science, and Film. Born in Bulgaria, she produced and directed several award-wining documentaries in Europe and the USA, including Energy for Survival, Hunger Gathering, Airwaves, Wings and Strings, Screaming Queens, America's Chemical Angels and more.
Zaya Benazzo
Producer/Director
Maurizio grew up in Genova, Italy. At an early age he began actively traveling the spiritual path, exploring the practices of Zen Buddhism, Transcendental Meditation, Yogic philosophy, Catholicism and Philosophy. He has experience in all aspects of production both in front of and behind the camera, including acting, directing, cinematography, and distribution.
Maurizio Benazzo
Producer/Director
Her natural talents soon emerged in three areas; science, art and drama. But how to combine all three? When attaining her Masters in Science, Caroline found unlikely doors opening for her with the BBC Natural History Unit and the BBC World Service. By the age of 28 she had filmed in over 30 countries and even had her feature doc, an exposé on China's Energy Industry, shut down by top government officials (badass!).
Caroline Campbell
Director of Photography/Editor
Motion picture and television editor and filmmaker, whose achievements include: Editing 110 episodes of the Emmy-winning series, ``Curious George`` (Universal Studios), editing the VR film ``Crow, The Legend`` (starring John Legend, Oprah Winfrey, Liza Koshy, and Constance Wu), editing the award-winning documentary ``Mustang Saviors,`` and filmmaker for his Youtube short film channel which is approaching 5 million views. He lives with his family in California's Wine Country.
Kirk Demorest
Editor
Jake was born and raised in rural Southern Oregon. He has lived in LA, NYC, and London. His short films have toured the world's festivals, winning awards along the way including a Vimeo staff pick. He also directs commercials, most recently highlighting the release of XBox Series X. Currently he lives by the sea in Cornwall with his wife and 1 year old daughter.
Jake Nelson
Animator
Ryon is an Emmy-winning EP/Producer, writer and actor who enjoys creating emotionally-driven films, docustyle pieces, authentic branded content, and narrative-framed music videos. He views storytelling as a powerful tool for change in the world and is passionately driven to produce more humanitarian-related docustyle work. While Ryon started his career in film as a business affairs attorney, he eventually fell in love with the creative side of storytelling, having never looked back as the path of filmmaker has unfolded before him.
Ryon Lane
Consulting Producer

"At first glance, The Wisdom of Trauma is a new movie about how your parents fucked you up. Which it totally is, but it's also much more."

"At first glance, The Wisdom of Trauma is a new movie about how your parents fucked you up. Which it totally is, but it's also much more 2."

"At first glance, The Wisdom of Trauma is a new movie about how your parents fucked you up. Which it totally is, but it's also much more 1."
You can use the Press Kit to promote the film with your media or community.